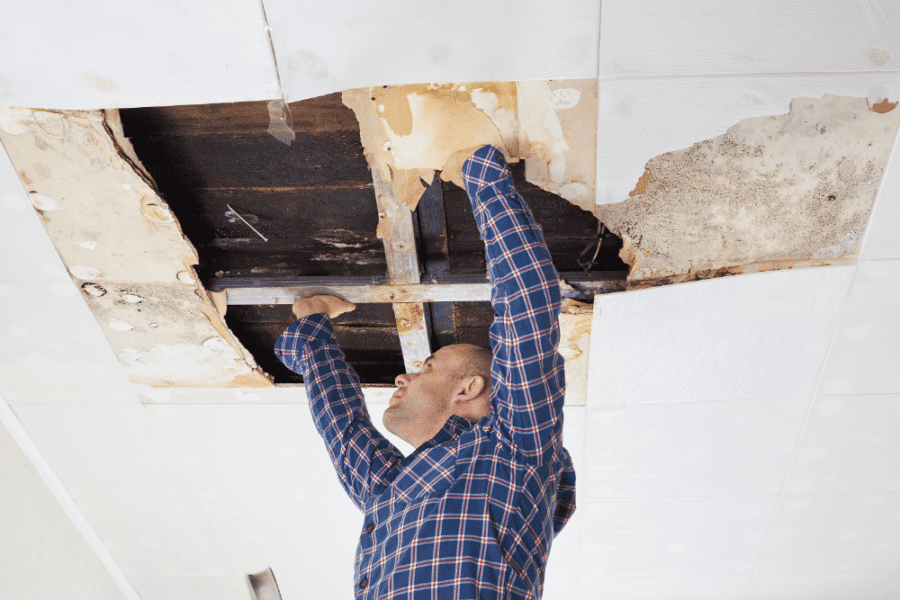 As an insurance agent, I hear the most unusual stories. If it can happen, I think I've heard about it. 
Like the time my customer called in to ask if her homeowner insurance would cover the damage from a pressure canner explosion. A malfunction and, wham!, tomato sauce all over the kitchen, damaging the walls, cabinets, and countertops.
Could she turn in this "incident" to her insurance company? Would she be covered?
Homeowner insurance is there for you when an unplanned, terrible event occurs. It's there to cover you when, like above, the unexpected happens!
As you know, unexpected incidents can be a real headache and inconvenience! But, these events are even more terrible when you find out after the fact that your insurance won't cover the damage.
Do you know how your policy will respond when you have your "exploding tomato sauce" incident?
Do you have a clear grasp on what your homeowner policy covers? 
After talking it over with our insurance team, we thought it might be helpful to answer some of the more common questions we get about homeowner coverage. These are questions we get time and time again.
So here it goes. 
Here are the top 8 questions we receive about homeowner insurance. 
What is generally covered by my homeowner insurance?
Is water damage covered on my policy?
Mine subsidence or mudslide damage. Are they covered?
Are service lines covered by my homeowner policy?
If a falling object damages my house, can I turn in a claim?
Are my antiques and other collectibles covered?
What kind of critter damage does my policy cover?
Can I get homeowner coverage if I own a Rottweiler?
(Before we jump in, I'm sure you're still wondering about my "tomato sauce" customer. To ease your mind, she was, in fact, covered. Her terrible "tomato sauce explosion" was cleaned up and her kitchen put back intact!)

Now, for your questions…
1. What does homeowner insurance cover in general?
When you purchase homeowner insurance, each insurance company offers various forms of the coverage, and each form determines the cost of the policy and what is covered by the policy. 
In the insurance world, we call these Form 1, Form 2, Form 3, or Form 5. (Creative, right?)
Form 1 will have the least amount of coverage and will also cost the least, and Form 5 will have the greatest amount of coverage and be the most expensive of the various forms. 
Form 1
This is the least expensive form of homeowner insurance. This covers your home if it is damaged by: 
A riot 
An explosion 
A vehicle (a vehicle runs into your home)
A volcano damage
A fire 
Lightening 
Smoke 
Hail 
An aircraft 
Wind 
This form of homeowner insurance is not written very often.

Form 2
If your homeowner policy is Form 2, your home is covered if it is damaged from: 
Any of the "perils" listed in Form 1 coverage. 

Falling objects (such as a tree falling on your home)

Sudden or accidental water damage (such as a bursting pipe)
Like Form 1 homeowner insurance, this form is also not written very often.
Form 3
Form 3 homeowner insurance is sometimes called "Open Peril," because it covers all perils except what is specifically excluded in your policy. These exceptions might include:
Earthquake

Flood

Landslide

Sinkholes

Nuclear accident
One caveat with Form 3 is that only your house is covered in the event of damage from the covered "perils." Your contents are only covered if they are damaged due to a "covered perils" listed in Form 1 and Form 2 homeowner coverage.
Form 3 is the most common form of homeowner insurance that is written. Your policy is most likely Form 3.
Form 5 
There is one more form of homeowner insurance, but this form is crazy expensive! So expensive that very few people purchase this coverage.
With Form 5, you would have coverage on all perils except those that are specifically excluded for both your home and your contents.  
Is there a Form 4 homeowner insurance?
You might be wondering why I haven't listed a Form 4 of homeowner insurance. Is there a Form 4?
Yes. Form 4, however, only covers the contents of the house. This is the form of homeowner insurance you would purchase if you are renting a house or apartment. Most often, it is referred to as renter's insurance.
Now that you have some general information about your homeowner's policy, let's talk about some of the nitty-gritty. Here are a few specific claims my customers ask about.
2. Water Damage: My basement is flooded! Is it covered?
Here's the scenario…it's March and the rains just won't stop coming. In fact, it rains so much that you end up with three inches of water in your basement. You call your insurance company to file a claim. 
Will your homeowner cover it?
Here's another scenario…imagine you leave for work one morning only to return to a basement full of water. You see water dripping from your ceiling…actually, not just dripping, it's kind of gushing. Realizing a pipe must have burst, you make your way to the shut-off valve. 
Who will pay for the damage and repairs? Can you turn this into your insurance company? Will they cover the claim?
Homeowner and water damage is interesting because your insurance coverage is dependent on the source of the water damage.
If the damage is done by groundwater, your insurance policy will not cover the damage. So in our first scenario, your claim would not be covered. 
If, however, the damage is a result of a broken pipe, your claim would be covered – but only the damage caused by the water. Replacing the damaged pipe would not be covered, only the damage that occurred because of it.
3. Earth Movement: Who's paying when the ground slides or shakes?
Here in Southwestern PA, it's not uncommon for the earth to do a little settling. Especially with all of the mining that has been done in this part of our nation, ground settling can be a real issue for homeowners.
So, over the course of the summer, let's say, you notice your retaining wall starting to slip? Will your insurance cover it?
How about your basement? Maybe your foundation is sinking? Is that a repair your homeowner will cover?
Sorry to say, but no. homeowner policies do not cover ground subsidence. 
The cost to repair such damage can be astronomical. Is there anything you can do?
If you are concerned that your home might be at risk for a ground subsidence issue, you can purchase a mine subsidence policy. Most often, homeowners buy this directly from the state. The cost of this kind of policy is very reasonable — in fact, mine only costs $90 a year.
To see if you need this coverage, you can visit the PA State Website to look at a map showing all the areas in PA that have been mined under. The website also gives information on how to go about purchasing mine subsidence insurance.
On a side note, while most insurance companies don't carry mine subsidence coverage, Travelers Insurance does have an endorsement covering earth movement that can be added to your policy. If you are an existing Travelers Insurance customer and would like to add this coverage, please give us a call!
Mudslides
Mine subsidence isn't the only cause of earth movement. Mudslides are also considered earth movement and can cause damage to your property. If you have a retaining wall that collapses due to a mudslide, your homeowner will not cover the expense to repair your wall. 
Earthquakes
I should also state here that earth movement is not the same as an earthquake. Not all homeowner policies will cover your home and property if you experience an earthquake. 
Check your homeowner policy to be certain you have coverage in case of an earthquake. If you do not and you live in an area prone to earthquakes, you may want to add this coverage.
4. Service Lines: Is the water line between my house and the curb covered if it's damaged?
Did you know that any service lines – water, gas, or electric – that run from the curb to your house are your responsibility? If something goes wrong with these lines, you, the homeowner, are responsible for their repair.
So, if something does happen to one of these lines, can you file it on your homeowner?
The answer is no. Your homeowner policy does not cover the repair of service lines to your home.
There is good news, however, about this issue! Many insurance companies are now providing additional coverages for your service lines through an endorsement on your policy. 
For between $30 and $40 each year, you can now add this coverage to your policy!
5. Falling Object Damage: What happens when my neighbor's old oak tree falls on my roof?
Now and then when a tree falls or loses a large limb, I will get a call about the "falling object" having damaged a home. Maybe it damages a roof or a deck. Maybe it tore off some siding or broke a window. 
When this happens, can you file a homeowner's claim?
Yes, you can.
If a tree in your yard falls on your house and causes damage, your homeowner will cover the damage.
My Neighbor's Tree
Now let's muddy the water. What if the tree that fell wasn't in your yard, but instead was in your neighbor's yard? Whose insurance will cover the damage?
This depends on the condition of the tree before it fell.
If your neighbor had a dead tree in their yard that needed to be cut down, your neighbor will most likely be responsible for submitting the claim. Your neighbor is responsible because they didn't tend to the dead tree on their property before it caused damage.
If the tree was perfectly healthy, however, you will most likely have to file the claim on your insurance. Your neighbor won't be the responsible party, because they had no way of predicting the tree would cause this kind of problem.
Wind Damage
Here's one more situation involving a tree falling on your property. 
Our little county can be quite windy! And it isn't uncommon for a tree to blow down or lose some of its heavy limbs. So if a tree falls on your home during a windstorm, will your homeowner cover it?
Again, yes, it will. But, it won't be covered as a falling object. Your insurance will cover it as damage due to wind. 
It would be the same if during a windy storm your neighbor's roof blew off and damaged your house. That also would be a wind claim, not a falling object claim, and your insurance would cover it.
6. Collectibles: Will my insurance cover my collection if I file a claim?
Are you an avid collector of something? Coins? Hobby trains? Jewelry? Antiques? Guns? 
If you are, you may think that your homeowner policy will cover these items if they are damaged in an incident or stolen. 
For instance, if you house your hobby train collection in the basement and it floods due to a burst pipe, will your train collection be covered? Or, if you suffer a break-in and your jewelry or guns are stolen, will your homeowner cover their replacement?
While your policy will cover some of the cost to replace those items, the replacement would be for an item of like kind and quality. They are not always insured to the actual value of the item.
To ensure that your collections are fully covered, you must schedule your valuables on your policy. What this means is that you must specifically list each item you want to be covered and have it individually insured. 
The cost to add these items to your policy will depend on the value of the items you are insuring. 
7. Critter Damage: What happens when a raccoon makes a nest in my roof and causes damage?
Critters. There is a lot of discussion as to what your insurance company will cover when it comes to damage done by critters. I'm talking about small critters (like a raccoon, squirrel, chipmunk, etc.), large animals (like bears), or even insects (like termites or carpenter bees). 
When damage is due to a critter, what will be covered?
For instance, if a squirrel finds its way into your attic and chews through some of your wiring, will it be covered? Yes. You most likely can file that as a claim on your homeowner. 
How about if a raccoon burrows into your roof and causes shingle damage and structural damage? Will your homeowner cover this claim? Most likely, yes. 
Your homeowner will most often cover the damage done to your home. Though it probably won't cover any of your possessions that the critter may have damaged in your attic.
Infestation Damage
What about covering damage due to an infestation of critters? Like termites? Will my homeowner cover damage done to my exterior wall by termites?
The answer is no.
While there is a lot of gray in terms of critter damage, your insurance will not cover critter infestations and damage resulting from those infestations. Your insurance will not cover infestations of:
Termites

Cockroaches

Carpenter bees

Mice

Bats
If you have an infestation, you will have to pay out-of-pocket for the removal of any pests and the repair of anything damaged by the pests.
8. Dog Bites: Can I get homeowner insurance if I have a Rottweiler?
Did you know that dog bites can be turned in as a claim on a homeowner policy? Several breeds of dogs have been flagged as a high risk for causing injury to people. Injuries caused by these breeds of dogs have often led to lawsuits.
As a result, many insurance companies will not write homeowner insurance policies if you own particular breeds of dogs like:
Rottweilers

German Shepherds

Mastiffs

Pitbulls

Akitas

Chows

Dobermans 
If you have one of these breeds of dogs, you will likely be limited on the choices of insurance companies that will be willing to sell you a homeowner policy. 
Don't worry though. You will be able to get coverage. You just won't have as many companies willing to write your policy.
Have other questions about your homeowner?
Do you still have questions about your homeowner coverage? 
Any time you have a question about your coverage, your insurance agent can help you understand what is and what is not covered. Customer service should be at the top of your agent's agenda!
At Baily Insurance Agency, we value our customers, and one way that we demonstrate that value is by responding quickly and thoroughly to our client's questions. Being attentive to our customers is our priority!
We also want to educate our clients so that they can make informed insurance decisions.
Your insurance needs are as unique as you are! Your policy should cover those things that you value most. That's why we focus on building strong relationships with our clients! We want to know what matters to you!
We also can help you bundle your insurance products. Often with homeowner insurance, you will receive discounts if you place your auto insurance or life insurance with the same company. 
If you are looking for homeowner's insurance, we would love to help you find the coverage you need at the best price! As an independent insurance agent, we have access to many insurance companies and can help direct you to a company that will be a great match for you. Get in touch with us today!