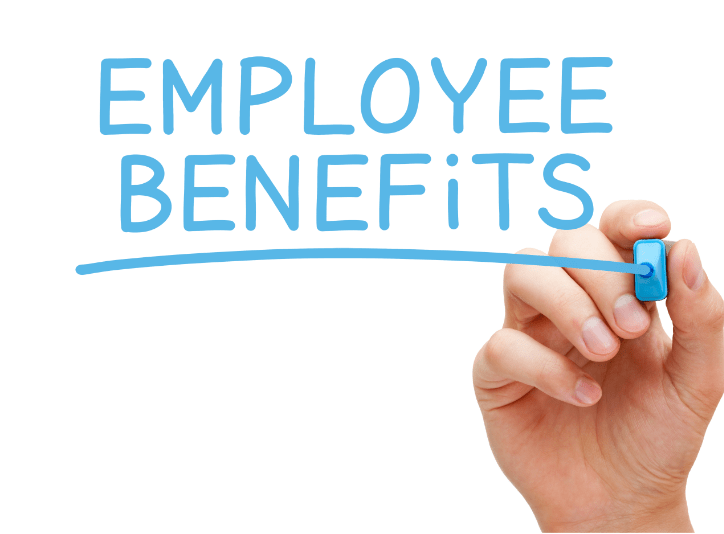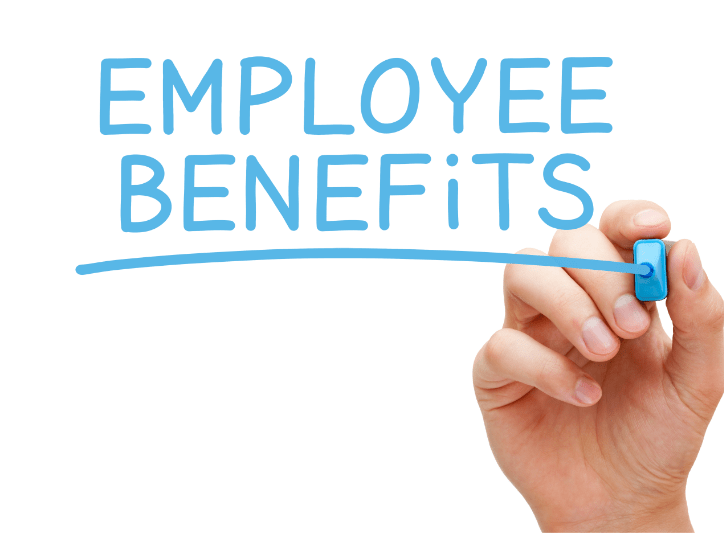 When most people hear the phrase "Employee Benefits" they think of group health plans and retirement plans. And it's no wonder. 
For most people looking for a job, health care and retirement are often two of the most important factors they consider when deciding whether to take it or pass.
And in today's work world, Employee Benefits play a significant role in employee satisfaction and retention. 
In fact, 80% of employees say that they would stay with their current employer because of their benefits package instead of changing to a job that doesn't offer benefits but pays more.
Employees often prefer robust benefits to extra pay.
So, what all is included in Employee Benefits?
For over 20 years, I have been helping employers put together their Employee Benefits package. And while I deal primarily with health benefits, Employee Benefits includes a whole lot more!
Employee Benefits are typically broken down into four main areas: 
Health Benefits

Financial Security Benefits

Work Benefits

Lifestyle Benefits
What benefits are you offering to your employees? 
In this article, we'll tackle each of these areas so you can evaluate the benefits you are already offering your employees as well as consider other benefits you may want to explore.
1. Health Benefits
At Baily Insurance Agency, our Employee Benefits team focuses primarily on health benefits that our clients offer to their employees. While group health is the major benefit offered in this category, there are other health benefits that employers can offer to their team.
Group Health Insurance
By law, if your business employs more than 50 employees, you are required to provide group health coverage for your business. And because group health insurance is desired by most employees, most small companies offer this benefit as well.
As the employer, you have a big role in deciding what your group health package will look like. You can help set employee contribution requirements, deductibles, copays, health benefits offered, and much more.
Dental Insurance
Apart from Group Health, many employers also offer dental insurance to their employees. This kind of coverage can help with routine cleanings, necessary procedures like fillings, and major dental work like root canals.
While not as common, there are also dental insurance products that will provide some coverage for orthodontic work.
Vision Insurance
Another health extra is vision insurance. Many employers will fund a group vision program that helps their employees cover the cost of eye exams, lens prescriptions, and glasses frames.  
Voluntary Products
Voluntary products are an area of employee benefits that are exploding today! Many businesses are getting creative with the insurance products they offer their team.
Voluntary benefits are benefits that your employees can pay for at a discounted rate because they are offered to your entire group. Often you only need a handful of employees to enroll in these benefits to offer them. 
Voluntary benefits are paid for exclusively by the employee with money taken directly from their pay. They are made available at no cost to the employer!
Voluntary products can include common benefits like vision or dental coverage. It can also include less utilized products like cancer insurance, critical care insurance, accident and dismemberment coverage, and even pet insurance. 
Many employees like these options because they get them at a huge discount. Many employers like to offer these products because they don't have to pay anything for these products.
Flexible Savings Accounts or Health Savings Accounts
Another benefit employers can arrange for their employees are tax-advantaged savings accounts. 
The type of account you set up will depend on how you anticipate your employees using the account. It will also depend on who you will permit to make contributions to the account.
Nevertheless, these accounts will give your employees the ability to use their hard-earned income on health expenses before it is taxed.
2. Financial Security Benefits
Many employers also offer benefits that are associated with financial security. The primary financial security benefits are group life insurance and retirement plans.
Group Life Insurance
Many people just don't take the time to purchase life insurance in case something should happen to them. That being said, some employers offer group life insurance to their employees.
Group life insurance policies don't usually carry the same amount of protection as a personal life insurance policy but will help your employees' loved ones if something should happen to them.
Retirement Plans
For many people, socking money away into a retirement plan is a big consideration when taking a job. They want to prepare for the future through a 401k, a pension plan, or some other retirement plan.
Many employers offer some form of retirement plan to their employees. 
Group Disability 
A newer product that many employers are now offering their employees is group disability. These products protect your employees if they need long-term or short-term financial help due to an unforeseen disability.
3. Work Benefits
Another area that potential employees consider before taking a job is work benefits. These benefits run the gamut from work hours, work location, paid time off, skill development, and even meal vouchers.
Work Hours and Location
This is always a hot topic among employees. People are so very different so the type of schedule you offer may appeal to one person, but not another.  
In terms of work benefits, potential employees will ask questions like:
Do you have a set schedule or can I work the hours I choose?

How many hours a week do you consider full-time?
For many employees, being able to work when and where they want is what they prefer. For others, having a set 9 to 5 schedule in your workplace is ideal.
Paid Time Off
A huge benefit that employees want is paid time off. As the employer, you decide how you will structure your paid time off program – how time off is accrued and when it can be used. 
Food and Drink Vouchers
For some employees, receiving free lunches, snacks, and beverages can be an incentive.
Skill Development
Many employees desire the opportunity to further their skills. Offering additional training through classes and conferences is a draw for many employees.
Some employers will also offer educational opportunities to their employees by covering tuition costs.
4. Lifestyle Benefits
The final category of benefits is lifestyle benefits. These benefits include things like transportation benefits, child care benefits, and job mobility.
Transportation Benefits
For some employees who need to commute to work, benefits around the area of transportation are appealing. For instance, if you are an urban employer you may want to offer a Flexible Savings Account (FSA) that can be applied to public transportation costs or parking fees.
Childcare Benefits
Like a Flexible Savings Account (FSA) for transportation, employers can also offer an FSA for childcare. This allows their employees to apply their pre-tax income to childcare expenses.
Other businesses offer childcare services on the job site or subsidize their childcare costs.
Job Mobility
More and more people want flexibility in their job. Especially with so many virtual ways to work, many employees want to be able to work remotely when needed. 
Didn't know there were so much to Employee Benefits?
Well, there it is. A thorough look at all the considerations you need to make when designing your benefits package. 
Are you taking full advantage of the various options you can provide your employees?
As an employer, you want to provide your employees with a robust group health program. But the group health insurance is also very expensive-usually the 2nd or 3rd largest cost after payroll! 
To supplement group health, many employers are investigating other creative options to help their employees meet their health care costs. By using tax-advantaged accounts, employers can help their employees prepare for their health needs.
Also, far too few employers take advantage of other benefits for their employees. Voluntary benefits are just now making a big entry into the employee benefits world. These benefits which don't cost anything to the employer are well-appreciated by employees. 
If you've been relying on Group Health Insurance and retirement plans for your Employee Benefits package, you may want to consider some of the other benefits discussed in this article.
How to Choose an Employee Benefits Advisor
The Employee Benefits Advisor you choose will be influenced by the options you are most interested in offering your employees. 
For many of the work and lifestyle benefits, you will simply need to decide as an employer what you will expect of your employees.
For financial stability and health benefits, you will need to work with an Employee Benefits Advisor who has experience and expertise.
When creating your group health benefits, putting together a complete package for your employees can be very complicated. The best plans don't just rely on the insurance carrier to come up with the most satisfying package.
You may find that combining products like a high-deductible group health plan and HRAs or offering your employees HSAs to offset their out-of-pocket expenses will best suit your business. 
You might even find that self-funding your group health will reduce your group health costs and give your employees better coverage and benefits than they've had before.
At Baily Insurance Agency, we know that each business's Employee Benefits need to be as unique as the people who work there. Each business is different in what it wants from its Employee Benefits program.
While we don't work in retirement plans, our specialties are group health products, group life products, and other group health-related benefits. 
If you are looking for a well-seasoned team to advise you on a package that will satisfy your employees, help you work toward reducing your costs, and developing a long-term Employee Benefits plan, we are waiting to meet with you!