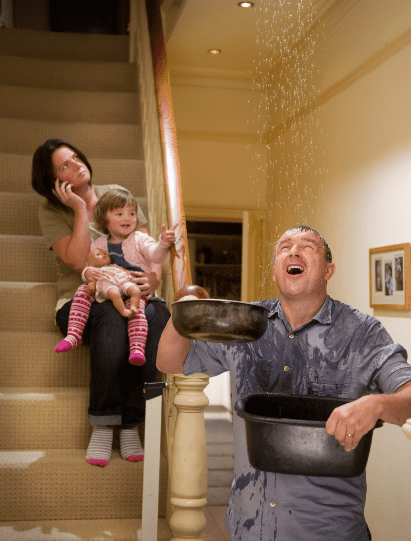 Like most everyone, there are parts of my job that I love and parts of my job that I hate.
As a personal lines insurance agent, I love helping clients find the coverage they need at an excellent price. I love picking up the phone to give them the good news that we found a policy that will cost less than last year.
I also love when I can help my customer file a claim after something goes wrong. I love being able to help them through some of their most challenging problems. It's great when it all works out!
Then there's the part of this job that I don't like so much. The part I hate is having to tell a client something I know they aren't going to like. And most of the time, this is around uncovered claims.
Usually, it's not that the insurance company is refusing to cover a claim. Most of the time, this problem arises from customers not understanding what an insurance policy will or will not cover. 
And often, clients call with the same questions regarding coverage. It's the same issues that they want to know if the insurance company will cover.
In response to this, I wanted to put together a short article addressing the most common inquiries I get about homeowner issues and coverage. In this article, I answer:
Does my homeowner policy cover roof leaks?

Will my insurance cover furnace issues?

Do I have coverage for my major appliances?

Can I file a claim for my hot water heater?

Will my insurance repair my busted pipes and the damage they caused?
For some of you reading, this information might be nothing new to you. For others, you may not have even thought about these issues. And for still others of you, you may have been a disappointed policyholder in the past when you found out your insurance wouldn't cover something that you thought it would.
1. Does my homeowner policy cover roof leaks?
Let's get started right away with the most common question I get. "My roof is leaking. Will my homeowner insurance cover it?"
The answer to this question begins with the reason for the leaky roof. 
An Old Roof
If your leak results from an old roof with some broken down shingles, your homeowner policy will not cover the roof or the damage done by the leak. 
As the homeowner, your insurance company expects you to maintain the condition of your roof. That's why it's good to have it inspected now and then. 
By taking the proactive approach, you'll prevent or lessen the amount of damage that can occur from a leaky roof.
So how long can you expect your roof to last you?
According to Roof Advisor, the actual framed part of your roof should last the house's lifespan. The shingles, on the other hand, will need to be replaced from time to time.
"In general, this is the recommended replacement schedule based on the material used:
     Composition Shingles: 12-20 years
     Asphalt Shingles: 15-30 years
     Wood Shingles: 20-25 years
     Rubber Roofs: 30-50 years
     Metal Roofs: 50-75 years"
Damage from Hail or Wind
Now, if your leak was due to roof damage caused by wind or hail, you may have coverage. You have "listed perils" on your homeowner policy. Each homeowner policy lists what kinds of problems or exposures your insurance company will cover.
You can check your policy to see if your policy covers hail or wind.
If you are covered, your insurance will provide resources to repair your roof and any interior damage caused by the damaged roof. It will cover the repair of interior ceilings or walls that ended up damaged.
Roof Replacement
In general, your homeowner policy will not cover the replacement of your roof. That is your responsibility as the homeowner.
If, however, your roof is destroyed by high winds, fire, or smoke damage, your insurance company will likely pay for the repair or replacement of your roof.
2. Will my insurance cover furnace issues?
Another question people call us with is regarding their furnace. If their furnace stops working, I have had customers call and ask if their homeowner policy will pay to replace the furnace.
In general, the answer to this question is "No."
Unless you have a warranty on your furnace from the HVAC company that installed your furnace or from your home builder, your furnace is not covered on your homeowner policy.
3. Do I have coverage for my major appliances?
Whether major appliances are covered by homeowner insurance or not isn't a question I get as often. When a major appliance wears out or malfunctions, your homeowner won't cover it. Again, like the furnace, you would need coverage under warranty to have the appliance serviced or repaired.
However, if a power surge or a lightning strike damages your appliance, your homeowner insurance may cover it. 
If you suspect that your appliance was "fried" because of a power surge, you need an inspector to come out to your house and look at the appliance. Sometimes the insurance company will have an inspector that they prefer to use.
Then you will need to give your insurance company a report from the inspector if a power surge or lightning strike was the actual cause of damage to your appliance.
In this instance, your homeowner policy may cover the appliance.
4. Can I file a claim for my hot water heater?
So how about a broken hot water heater? Is there a clause for that in your homeowner policy?
No.
Like the furnace or major appliance, your hot water heater will not be replaced or repaired by your homeowner policy. Again, you may have a valid warranty for your hot water heater, but if not, you will have to cover this expense.
5. Will my insurance repair my busted pipes and the damage they caused?
The final common question I get in the area of homeowner claims is damage from a busted pipe.
Let me set the scene. You leave for the weekend, and a deep freeze sets in. (Not hard to imagine here in the north.)
When you get home, you're greeted by water leaking from your kitchen ceiling and running down the kitchen walls. 
Frozen pipes!
Will your homeowner cover the damage to your ceiling, walls, and flooring? Will it replace the damaged pipes?
If your home experiences damage due to a pipe that bursts, your homeowner insurance will cover the damage done to your ceiling, walls, flooring, and other property. The plumbing repairs to your pipes are not covered by insurance, though.
Do you have other homeowner insurance questions?
At Baily Insurance Agency, we are committed to educating our clients. We aim to eliminate surprises for our customers by providing them with important information about their insurance policies.
Do you have questions about your insurance policies? Do you have questions about coverages or costs? Do you have questions about insurance problems or issues?
We would like to invite you to ask us any insurance questions or concerns you would like to learn about. If there is a topic or question you'd like us to cover, please reach out to us! 
And if you have an insurance need, our agents are devoted to bringing you the coverage you need at a great price. Our mission is to serve you! Give us a call today!
Related Articles:
Top 5 Winter Homeowners Insurance Claims (And How to Prevent Them)
My Retaining Wall Slipped. Will It Be Covered by My Insurance?