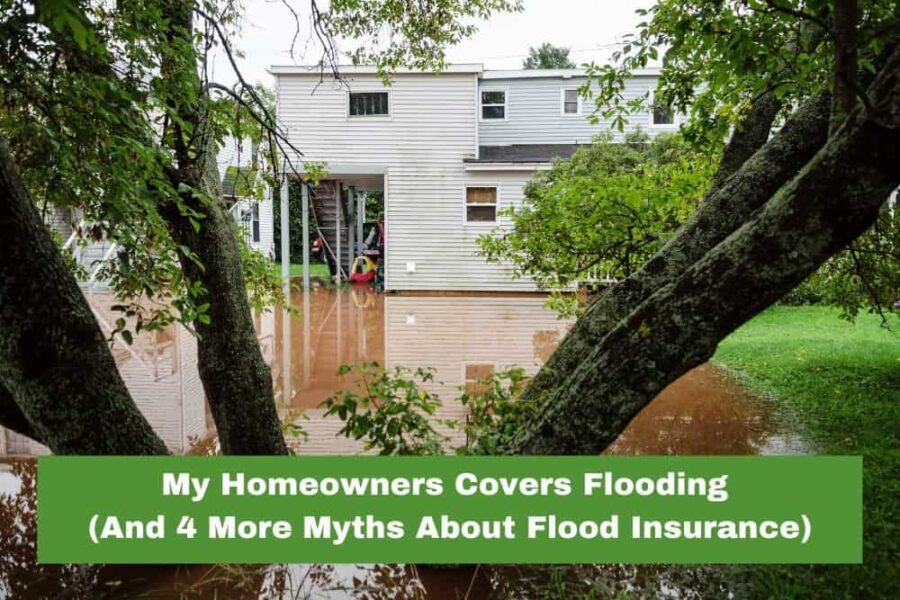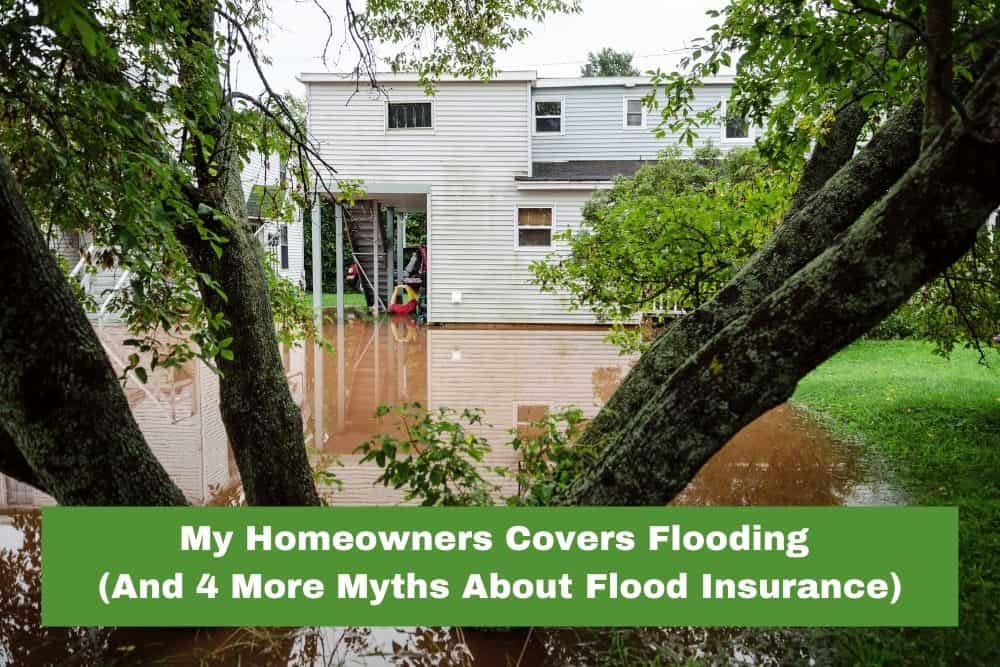 Spring is right around the corner. If you're like me, you're looking forward to the green buds on the trees and the first colorful blooms of the season.
And, if you're like me, you're also expecting days full of drizzle and drops. You might even have your umbrella ready and your duck boots out.
With the freshness of spring comes the rain. 
And sometimes more rain, and more rain.
If you live near a creek or in a low-lying area, you're probably already thinking about the possibility of spring flooding. 
But many of us don't think about flooding. We don't expect the spring rains to impact our day-to-day life, and we definitely don't expect them to damage our home or property.
But what if you are affected by rains? What if you experience flooding? Do you have the insurance coverage you need in place to protect you?
With the increase in flooding in our community over the past several years, I often talk with my clients about considering adding flood insurance to their insurance program.
In those conversations, my clients often already hold beliefs about flood insurance and whether they need it or not. Some of those beliefs are spot on, but some are simply myths.
In this article, I'm sharing the top five myths about flood insurance that I repeatedly hear from my clients and whether they are true or not. 
These myths include
My homeowner's insurance policy will cover flooding.
I don't need flood insurance because I'm not in a flood zone.
Flood insurance is too expensive to purchase.
I'm renting, so I can't get flood insurance.
If my home floods, the government will help cover the cost of repairs.
Let's get started.
#1 My homeowner's insurance policy will cover flooding.
The biggest mistake homeowners make is thinking that their homeowner's policy will cover the damage done to their home by minor flooding. 
Typically, homeowners insurance does not cover damage from flooding, surface water, earth movement, or a backup of your sewer or drains.
If run-off from melting snow or rain causes your sewer to back up into your basement, your basic homeowner's policy will not cover that damage.
Or, if you live in town, and the street in front of your home floods and those waters enter your home, damaging your flooring or drywall, your homeowner's insurance will not likely pay a claim.
When you purchase your homeowner's policy, it's best to ask your insurance agent what kinds of water damage are covered on your basic policy. Your agent should help you assess whether you should buy additional coverages.
#2 I don't need flood insurance because I'm not in a flood zone.
If you have a mortgage and live in a flood zone, your lender will most likely require you to have a flood insurance policy on your home.
What is a flood zone?
Flood zones are geographic areas defined according to varying levels of flood risk. According to FEMA, 1 out of 4 flood claims come from outside high-risk flood zones.
To see if your home or business is located in a high-risk flood zone, you can visit https://msc.fema.gov/portal/home.
But what if you don't live in a flood zone? Why would you need to buy flood insurance?
First and foremost, flooding is on the rise in areas typically at low or moderate risk of flooding.
However, you can experience flooding in your home even if you don't live in a flood zone. For instance, flash flooding can happen just about anywhere. If the rain comes hard and fast, you may find that you are in a flood situation even if you have never experienced flooding before.
When it comes to insurance, if your basement is flooded from water entering during a storm, that is considered flooding. 
Your homeowner's insurance policy will not have coverage for this kind of water damage.
#3 Flood insurance is too expensive to purchase.
As an insurance agent, I can tell you that flood insurance can be expensive. That's why many people find ways to deal with damage caused by flooding instead of purchasing a policy.
However, I have been pleasantly surprised over the past several years that many homeowners insurance companies have started offering flood insurance riders.
Instead of purchasing a stand-alone flood insurance policy, you may qualify for a flood insurance rider. This will depend on where you live in relation to a flood zone.
These riders are less expensive than a stand-alone flood insurance policy. 
These riders make it affordable for most homeowners to add the rider without seeing excessive increases in their premiums.
And, if you are in a flood zone, the expense of a stand-alone flood insurance policy may just be worth it. 
FEMA estimates that just 1" of floodwater in your home can cause up to $25,000 worth of damage. 
The cost to replace flooring, drywall, doors, and plumbing can add up quickly. And, many flooded homes require mold remediation afterward. 
#4 I'm renting, so I can't get flood insurance. (And I don't need it anyway.)
If you rent a home or apartment, you may think that you don't need flood insurance. 
Indeed, you would not be responsible for paying for the damage done to the place you're renting if it is flooded. However, if your personal property is damaged, you would not have coverage for your belongings.
For instance, if the basement of your rental home floods and your washer and dryer are destroyed, you won't have coverage to replace them without flood insurance. 
Again, suppose rainwater rises and comes into your first-floor apartment, damaging your sofa and armchairs. And let's say you don't have a flood insurance policy or flood insurance rider. In that case, you'll have to pay to replace your furniture out of pocket.
You can purchase a renter's insurance policy that includes a flood insurance rider as with homeowner's insurance. 
And you'll find that a rider on a renters insurance policy is very affordable.
#5 If my home floods, the government will help cover the cost of repairs.
The government has provisions to help homeowners who face losses due to flooding. There is one caveat, however.
The government will only help cover your losses from a flood if the president declares a disaster. Less than half of all floods in the U.S. are declared a disaster. Many homeowners with flood claims are not eligible for government help.
The main form of government help after a disaster is low-interest loans. The average cost of a flood insurance policy is around $700. The interest on a FEMA disaster relief loan will cost more than a $700 policy. 
Also, government assistance will only help you get your home back to a "liveable" space. It will not cover repairing your home to its previous condition.
Finally, FEMA also has limits on the amount paid out for disaster relief. As of November 2021, this amount was only $37,900. Contrast that with the $250,000 you could receive from a flood insurance policy.
Most of the time, government aid after a flooding disaster only covers a small fraction of the damage incurred to a home. 
If you find yourself in this kind of crisis, purchasing a flood insurance policy or a flood insurance rider will give you much greater protection.
I want to know if I'm covered if I have a flood. What should I do next? 
The best way to find out if you have any coverage for flooding is to contact your insurance agent and ask them to explain what "perils" are covered on your homeowner's policy. 
Ask your agent specifically about flooding and what kind of coverage you have if flood water or surface water causes damage to your home or property.
If you don't have coverage, ask your agent to price out a flood policy for you. You should also ask your agent if you can add a flood insurance rider to your existing policy.
Can I get flood insurance or a flood insurance rider at Baily Insurance?
Baily Insurance has advised our clients about their insurance needs for more than 140 years. And in those years, we've been no strangers to flood insurance.
We ensure that homeowners and businesses at high risk for flooding are protected if those waters seep into homes and commercial buildings, causing damage.
And we're happy to announce that several of our homeowner's insurance companies are now offering additional flood coverage to our customers through flood insurance riders.
Even if your current homeowner's insurance company does not provide flood insurance riders, our team can price out your policy with many other insurance companies to see what it would cost if you are interested in this solution.
As independent insurance agents, that's what we do best. We help our clients price out their insurance with multiple companies so that they can find the option that best meets their needs and stays within their budget.
We do the insurance shopping for you!
If you're looking for an insurance agent to help you create an insurance program that meets your needs, our team is waiting for your call! 
Or you can let us know you need a quote by filling out the form below. One of our team members will get in touch with you within one business day when you let us know that you're looking for an agent to help you protect those things that matter most to you!
Looking forward to hearing from you!
Tammy